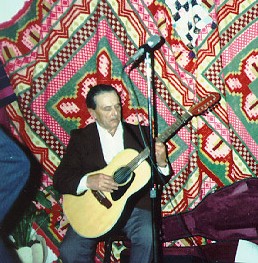 Antonio Toledo loved playing traditional folkloric Portuguese music, specially those from his native land, the Azores islands. He played for various functions and in the last few years of his life and was one of the founding members of the Portuguese folkloric group Grupo Cultural Portugues Recordando Portugal, from Chino, California.

A bit of trivia: Antonio never learned how to read "music notes", so every tune he ever played he learned by just listening to the music and then replaying the same notes.

Below is a sampling of Antonio's playing some of his favorite tunes. He is playing his 15-string guitar, so most of the "lead notes" are coming from him alone.